5k-10k Training: The Program ---My Philosophy P 2
10K Training Advanced Beginner Schedule
Advanced beginner runners can use this training schedule to get race-ready tor a 10K (6.2-mile) road race in eight weeks. This training schedule is geared toward runners who can run 3 miles comfortably and can run four to five days per week. It's appropriate if you've already run at least one 10K road race or you have some running experience and are ready to race a 10K.
In general, new runners should first train for a 5K (3.1) mile road race or use a beginner runner 10K schedule.​
10K Advanced Beginner Schedule
Legend:
CT: Crosstraining day
EZ: easy pace
| | | | | | | | |
| --- | --- | --- | --- | --- | --- | --- | --- |
| Week | Monday | Tuesday | Wednesday | Thursday | Friday | Saturday | Sunday |
| 1 | Rest | 3 miles | CT | 2.5 miles race pace | Rest | 3 miles | 30 min. EZ |
| 2 | Rest | 3 miles | CT | 3 miles race pace | Rest | 3.5 miles | 35-40 min. EZ |
| 3 | Rest | 3.5 miles | CT | 3.5 miles race pace | Rest | 4 miles | 35-40 min. EZ |
| 4 | Rest | 4 miles | CT | 3.5 miles race pace | Rest | 4.5 miles | 40-45 min. EZ |
| 5 | Rest | 4 miles | CT | 3 miles race pace | Rest | 5 miles | 40-45 min. EZ |
| 6 | Rest | 4 miles | CT | 3.5 miles race pace | Rest | 6 miles | 40-45 min. EZ |
| 7 | Rest | 4 miles | CT | 3 miles race pace | Rest | 7 miles | 40-45 min. EZ |
| 8 | Rest | 3 miles | CT or Rest | 3 miles | Rest | Rest | 10K Race |
Details of the 10K Training Schedule
You can switch days to accommodate your schedule. If you prefer to workout on a Monday or Friday, it's fine to swap a rest day for a run day. However, try to alternate your serious running workouts with a rest day or an easy day to give your body time to recover and build new muscle and energy systems.
Mondays and Fridays:Mondays and Fridays are rest days. Don't ignore rest days—they're important to your recovery and injury prevention efforts. Your muscles build and repair themselves during your rest days. If you run every day, you're not going to gain much strength and you're increasing your risk of injury. It's also beneficial to get a mental break from running on some days. These can be days that you do strength training.
Tuesdays and Saturdays:These are running workout days. After you warm up, run at a comfortable pace for the designated mileage. The mileage steadily increases for the Saturday long run to get you prepared for the 10K distance. The mileage on the seventh week is beyond the 10K distance as this will help ensure you can finish strong.
Wednesdays:Do a cross-training (CT) activity that you enjoy. This can be another cardio exercise (such as biking, elliptical training, or swimming) done at an easy to moderate effort for 45 to 50 minutes. Strength training is another cross-training activity that can improve your running performance and may help reduce your injury risk. Strength training workouts are recommended for fitness in general two to three days per week, and you can do them on your CT or rest days. Yoga is also a very beneficial supplement to running to help improve your strength and flexibility.
Thursdays:Your Thursday "race pace" distances should be run at your anticipated 10K race pace. If you're not sure what that pace is, run at a speed that you think you could hold for 6.2 miles. Doing regular race pace runs not only improve your fitness, but they'll help you become more familiar with how you feel at that pace, making it easier for you to maintain that pace on race day.
Sundays:Sundays are active recovery days. Run at an easy (EZ), comfortable pace to help loosen up your muscles. Or, you can walk or do a run/walk combination for the designated amount of time.
If your training is interrupted by illness or vacation, try to resume your schedule where it left off. If the interruption is for more than a week, repeat the last week's workouts before progressing.
While you might use the treadmill for one workout per week, it's best to do road training for a road race. Your body will encounter different conditions out in the real world compared with running on a treadmill.
You might use the treadmill for one of your workouts each week, but the others (especially the long mileage on Saturday) should be done outdoors.
If the route of your 10K race includes hills, it is good to include them in your workouts. Your body will need to get used to both uphill and downhill running as they use the muscles in different ways.
Video: HOW TO TRAIN FOR A 10K: Tips and workouts for 10km runners by Sage Canaday
10K Training Advanced Beginner Schedule images
2019 year - 10K Training Advanced Beginner Schedule pictures
10K Training Advanced Beginner Schedule recommend photo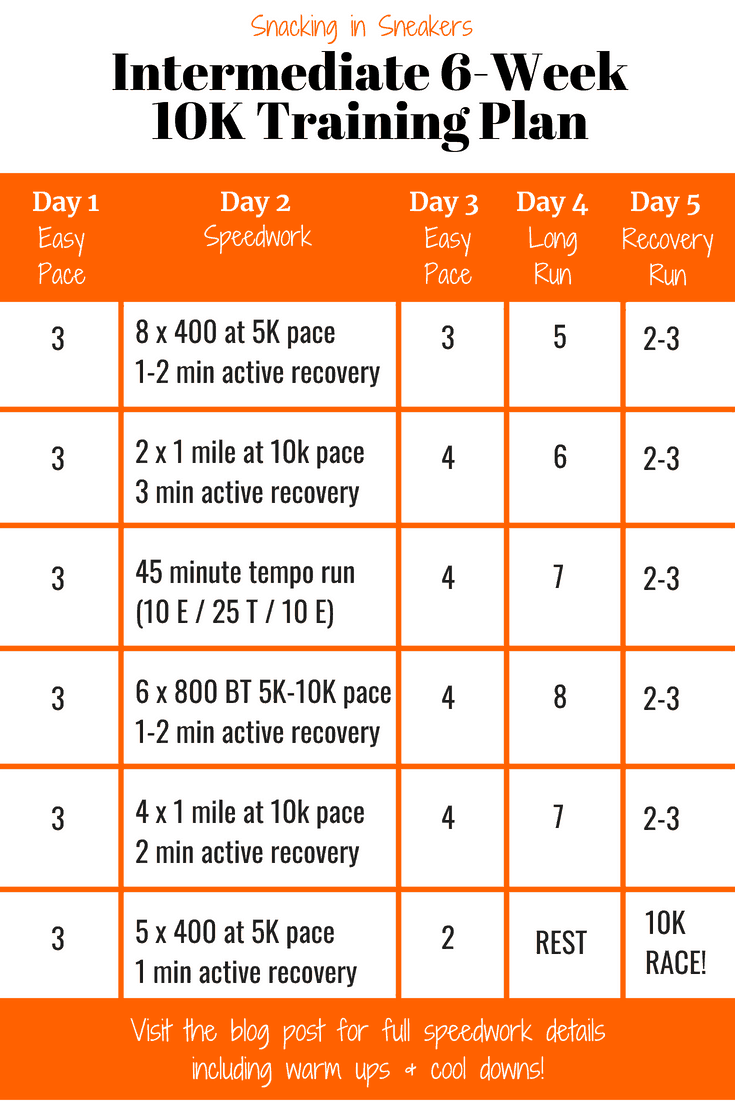 10K Training Advanced Beginner Schedule pics
10K Training Advanced Beginner Schedule new foto
pictures 10K Training Advanced Beginner Schedule
Watch 10K Training Advanced Beginner Schedule video
Discussion on this topic: 10K Training Advanced Beginner Schedule, 10k-training-advanced-beginner-schedule/ , 10k-training-advanced-beginner-schedule/
Related News
12 Tiny Terrariums You Can DIY For Earthy Wedding Centerpieces
10Body Reactions That WeCan Actually Control (Spoiler: Women Are Really Lucky)
Levemir Reviews
3 Ways to Address Nuns
Did Artist Frida Kahlo Have Fibromyalgia
1. Sunny Beach, Bulgaria —58.22 (76.53)
Ripped Abs Workout
What You Missed This Week
How to Feed a Horse Carrots
How to Adapt a Card Deck to Play French Tarot
What Happens To Your Body When You're Hangry
How to Stay Off Social Media
The Smoothie Ingredient with More Potassium Than a Banana
Irresistibly Hot Shirtless Bachelors
Date: 06.12.2018, 14:33 / Views: 54195
---