Handicrafts
Many people think that gifts must be purchased exclusively in stores and pay a lot of money for them. In fact, everything is not so. Surely you have noticed how the mother's eyes shine with joy when the child gives her a gift that he made himself with his own hands. Of course, she will be proud to show this craft to her friends and keep it all her life.
Content:
Surely many people have a question, how to make a gift with your own hands, so that at the same time there will be no special expenses. You should only look around and understand that you can create from everything that surrounds us, and needlework is a truly fascinating activity. Everyone in the house has a piece of unnecessary fabric, thread, paper of different colors. Even from the eggshell you can make a delicious little thing!
In summer and autumn, you can find unusual material for handicrafts with your hands right under your feet - these are various beautiful stones, leaves, cones, pieces of bark, straw, flowers and twigs.
Your observation and imagination is the main thing that can be useful to you. Thanks to his work, you can make an unusual stand, a panel, a toy, a bouquet, and even various decorations. And you will be proud to realize that there is nothing like this in the whole world.
Handicrafts made from clay
Holding a piece of clay in his hand, the master is able to make from it anything, from souvenirs to decorations. Nowadays, you can easily do stunning things at home with polymer clay.
Your polymer clay crafts will be stored much longer than when using clay. In addition, polymer clay is currently quite common, and molding is its main technique.
With the help of clay, more and more new opportunities are opening up before you. Now, you can do not only decor elements, but also different hairpins, brooches, ornaments. Clay has plasticity and softness, which helps you to make from it both light and complex elements. For example, you can easily make rose petals, patterns, flowers, unusual figures.
DIY handicrafts made of clay in stages
I present to you a master class on how to make such an original handmade craft out of polymer clay with your own hands - a pendant in the shape of a hanging cat. Made according to the instructions of Elena Burmina.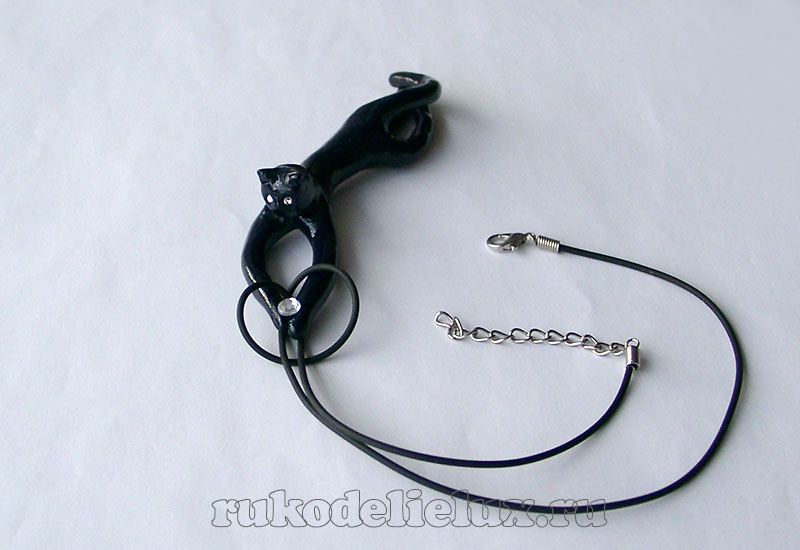 We take black polymer clay of any manufacturer.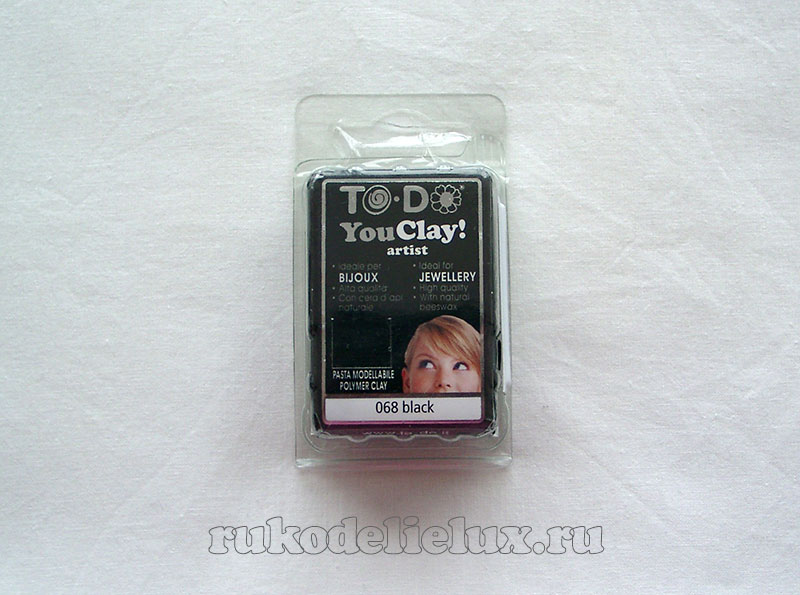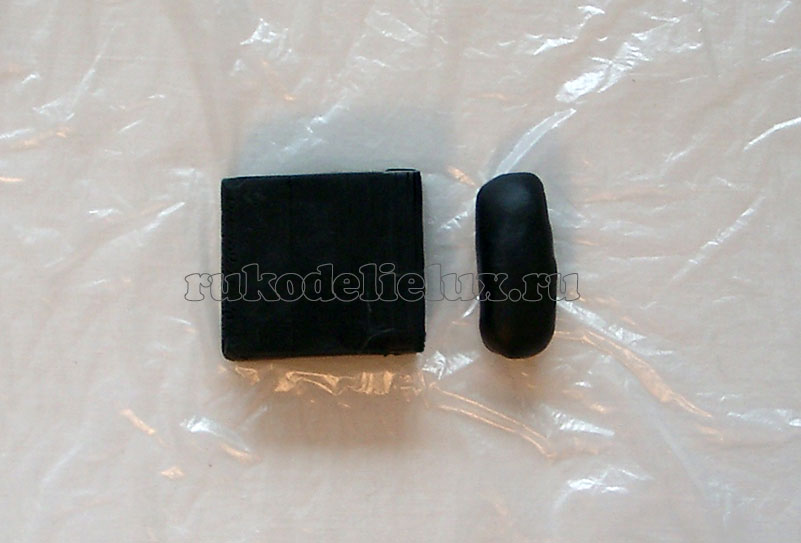 Give it this form.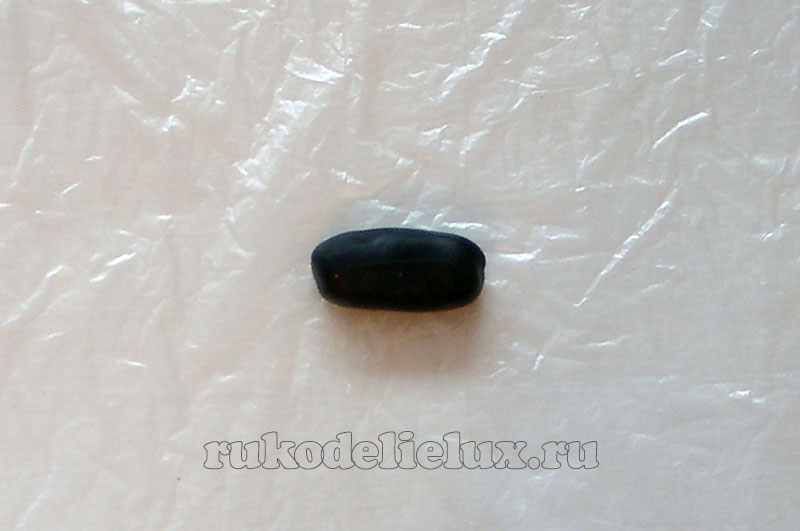 With a sharp knife, cut into three parts from two sides, without reaching the center.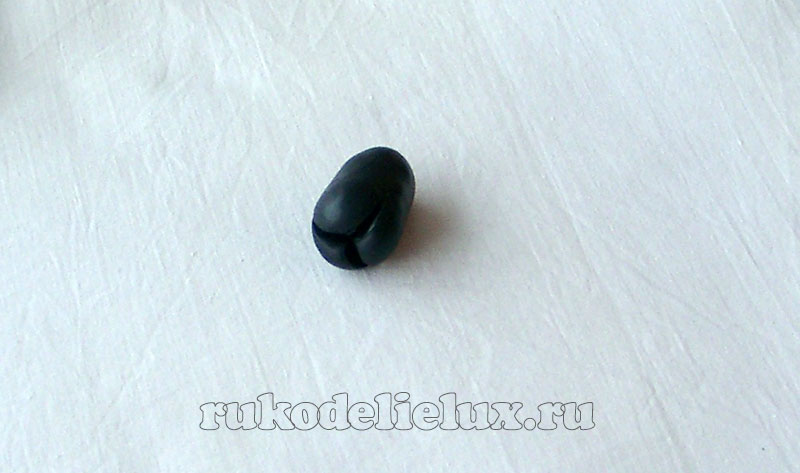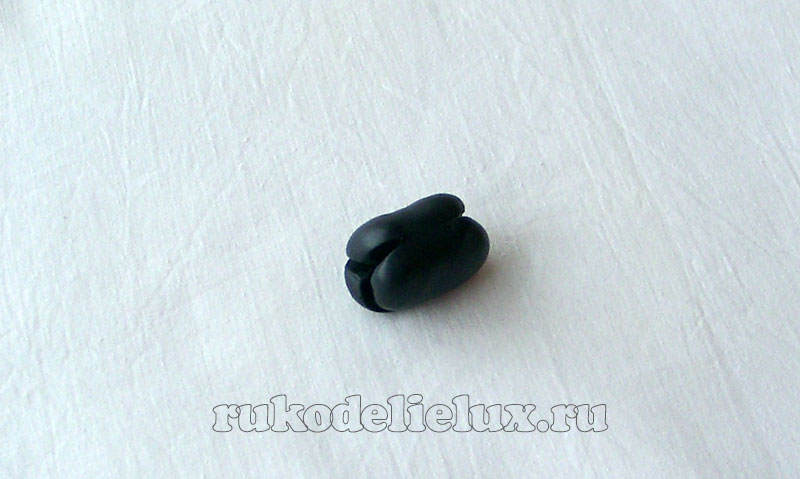 Gently pull the legs, tail, shape the head.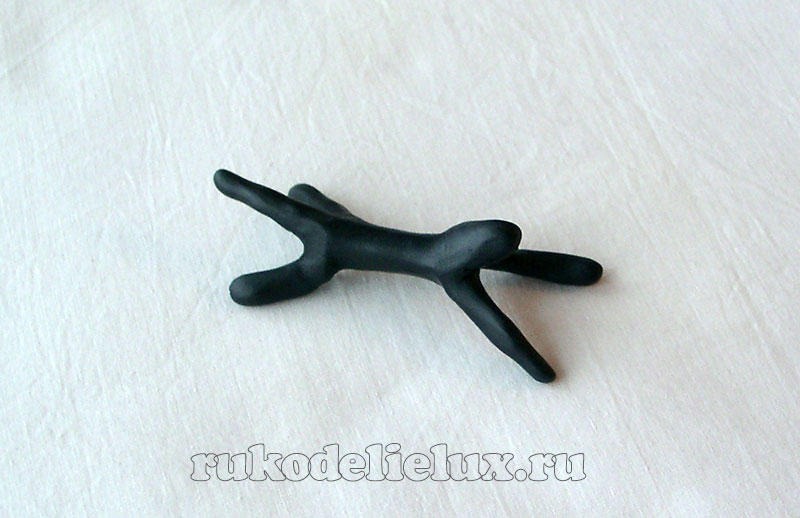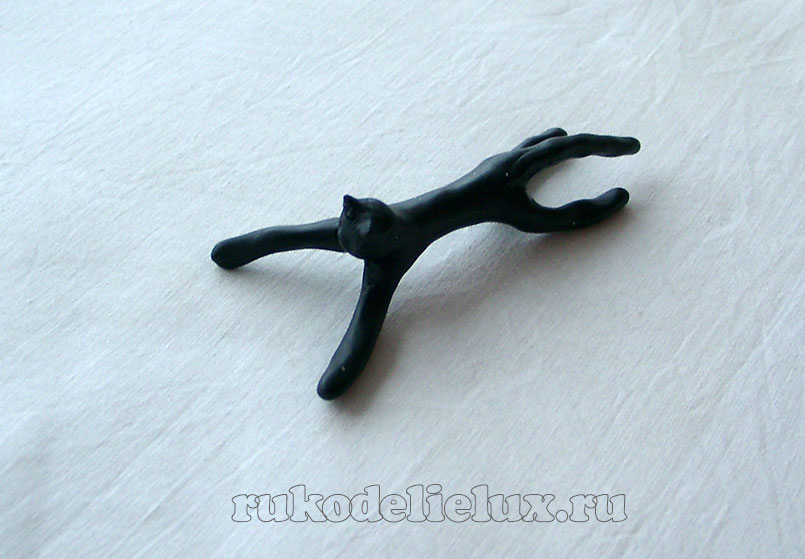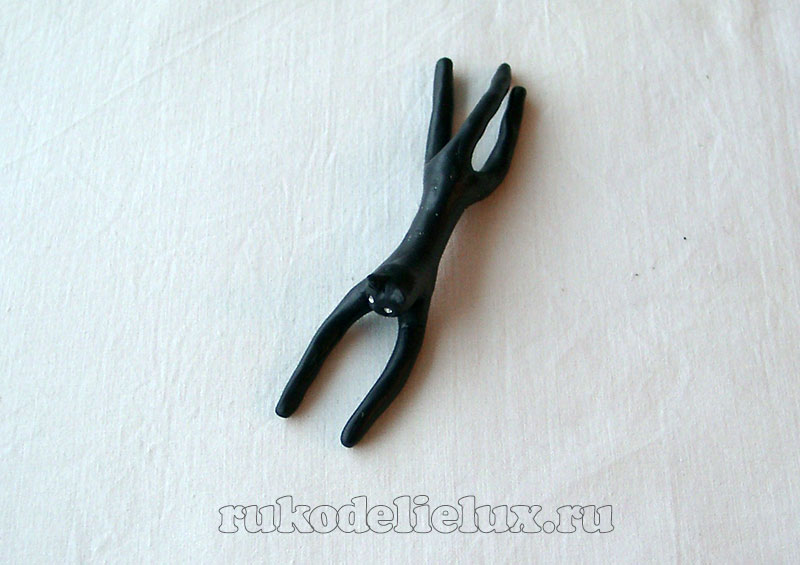 We put beautifully paws and tail, straighten bake. Then glue the rhinestones on the eyes and one more - on the feet.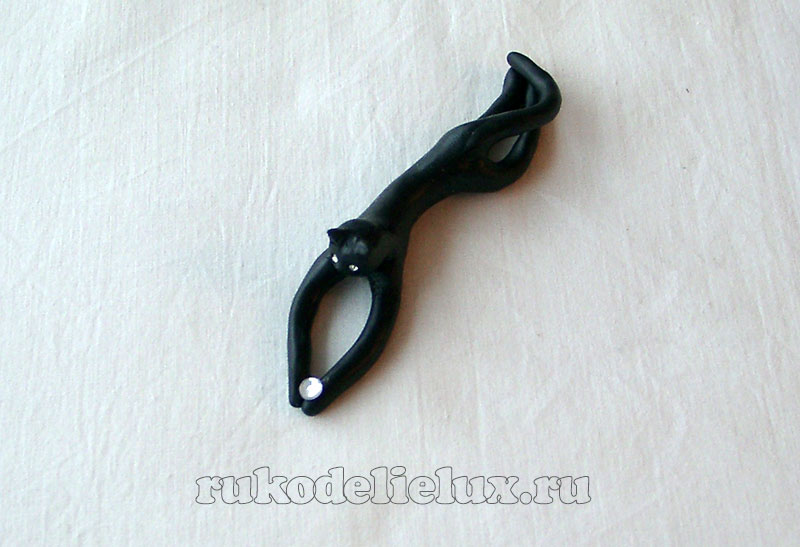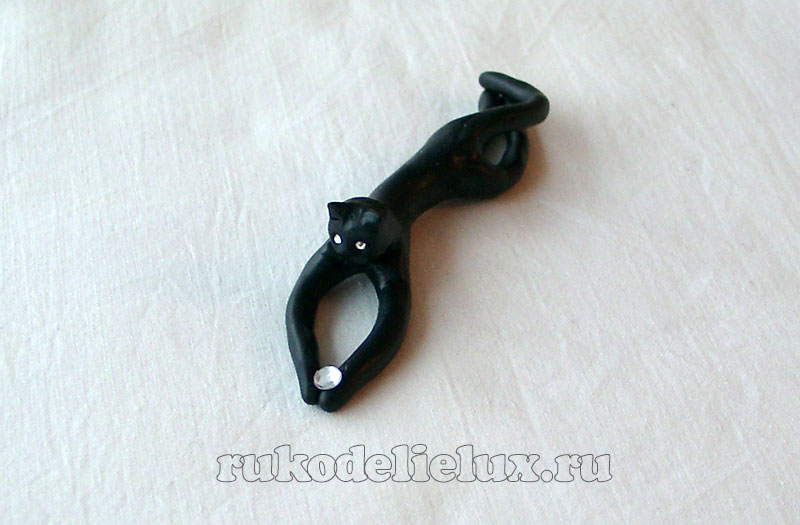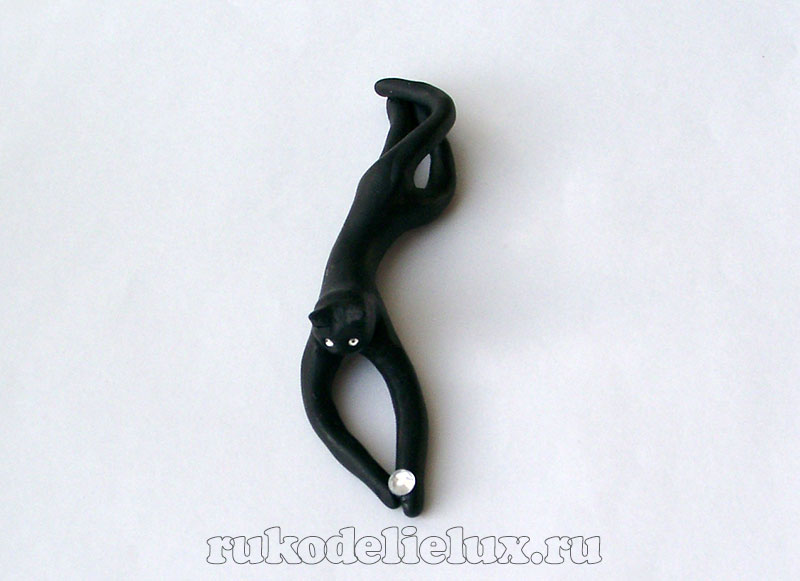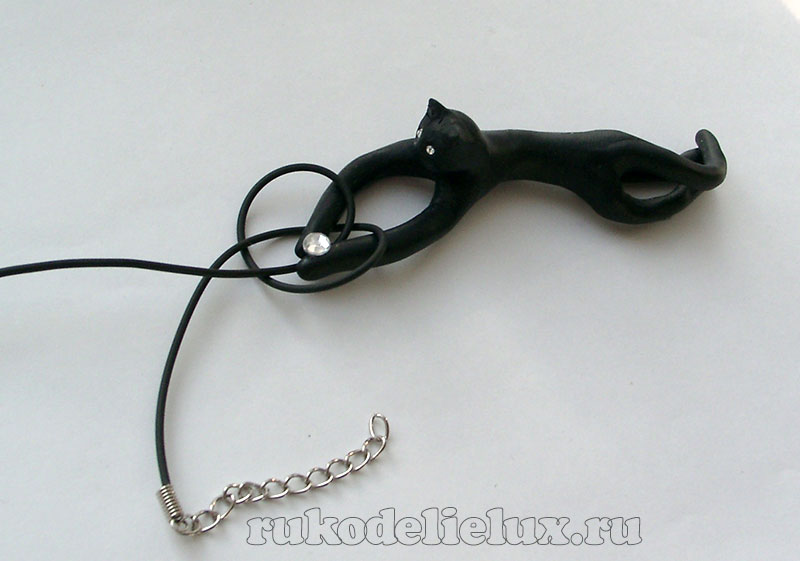 If desired, the cat can be varnished.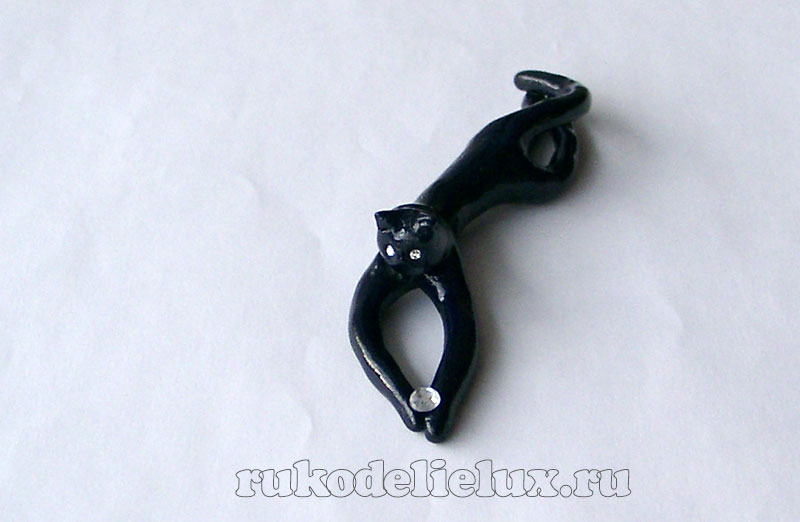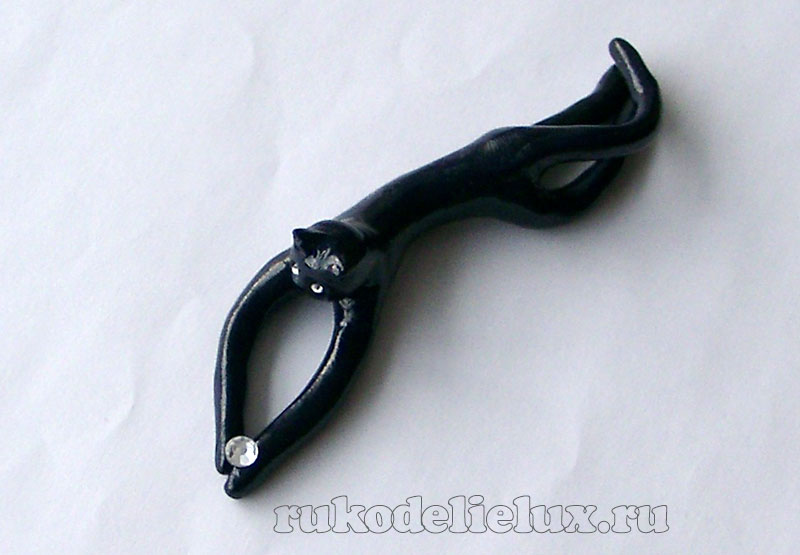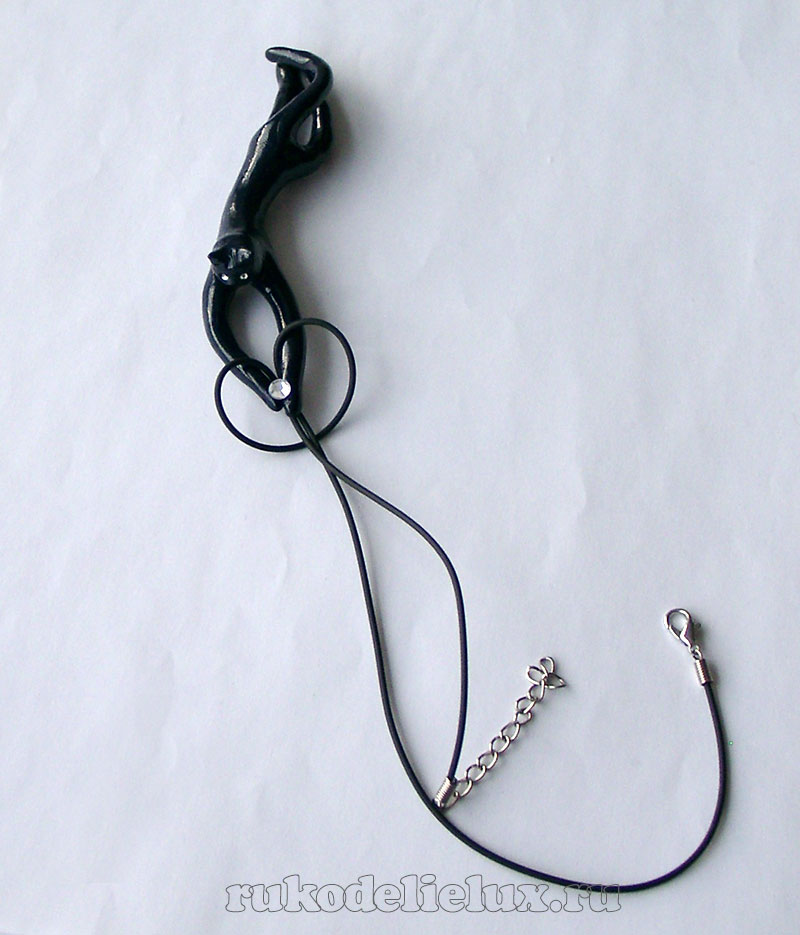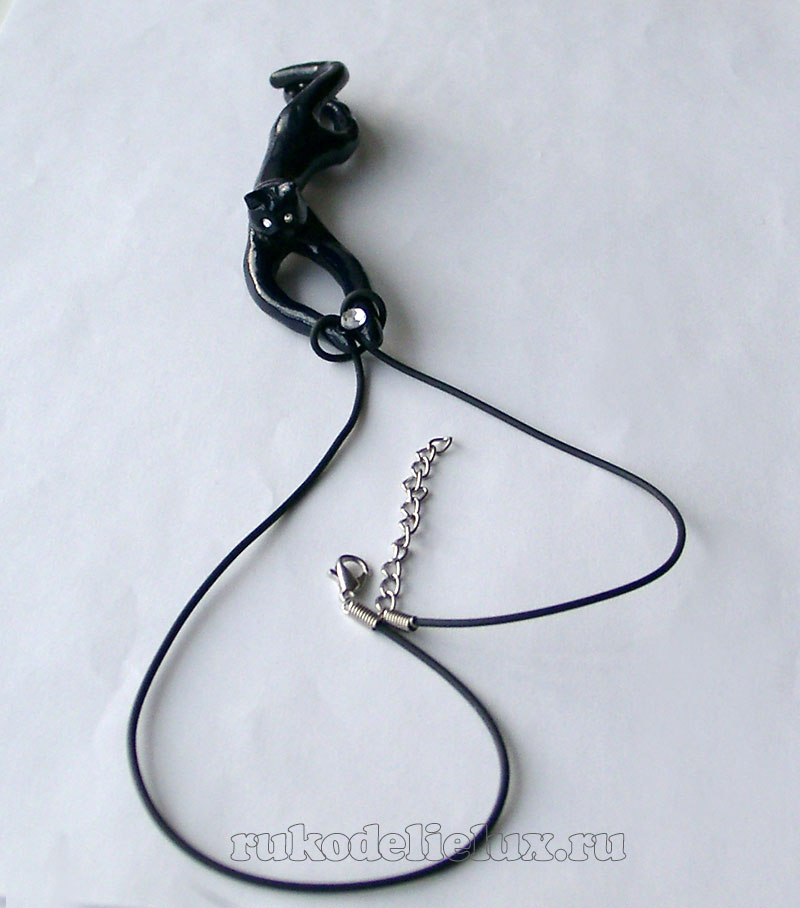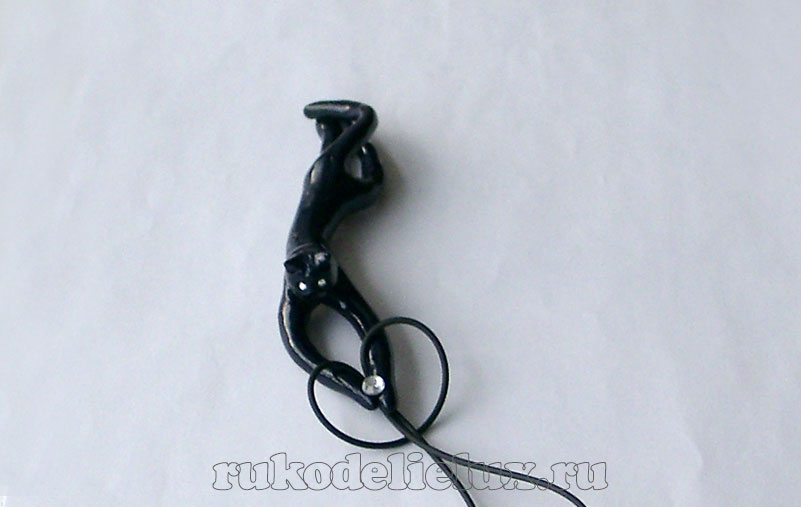 Do-it-yourself paper crafts
Perhaps, paper can be called the most accessible material for crafts, as it almost everywhere surrounds us, and to get it is not difficult. The paper is actually suitable for various crafts.Most often it is used for cutting various stars, snowflakes, etc ..
It is also not comparable with any other material for crafts, as the ease of working with paper attracts everyone. The only tools that can be useful to you in working with paper are glue and scissors.
If you are bored with the usual paper cut, and you want to discover something new, something unusual, then you should get acquainted with such a technique as quilling.
Strips of colored paper will help you create truly unusual compositions. It should start from the simplest flower, and move on to something bigger, more refined. Why not make unusual objects, paintings and caskets using quilling?
You can also make a holiday card, or decorate gift wrapping, it will become a truly original gift for people close to you.
Filigree is a paper processing technique that was invented back in the old days, it became widespread in European countries, and later reached us. In the United States, the filigree received a new name - Quilling.
Hand-crafted paper craft workshop
In this workshop I will show you how to make such a pendant from paper using quilling technique.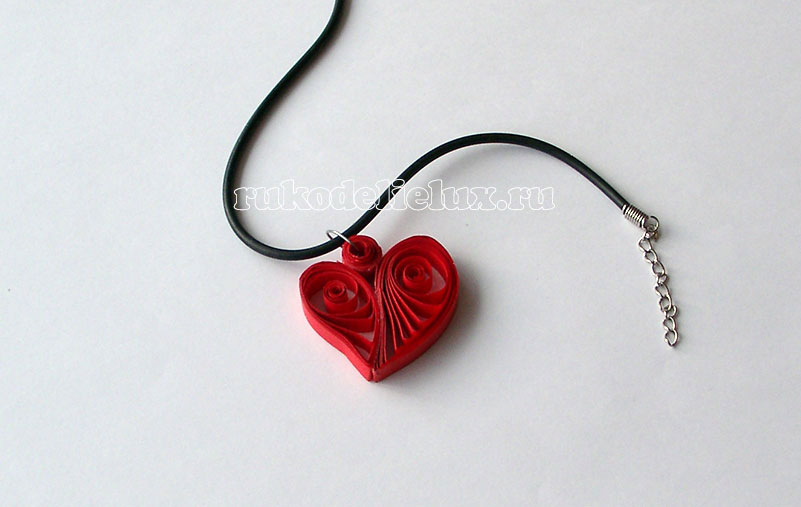 We buy special paper for quilling.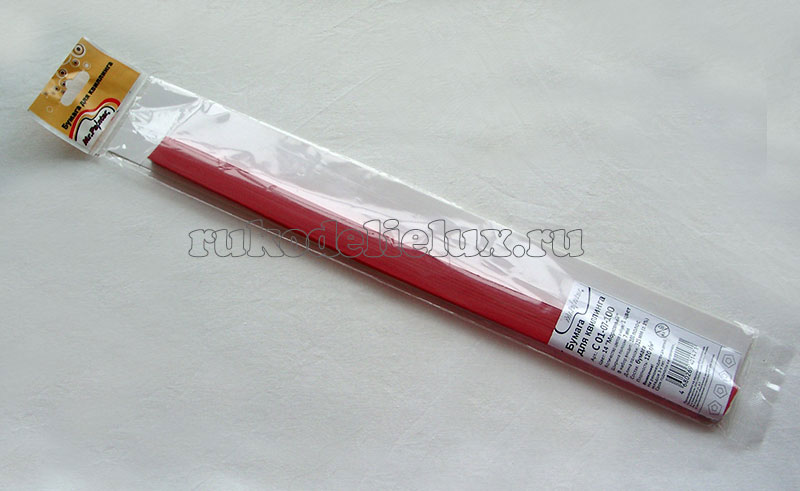 And twist the spiral.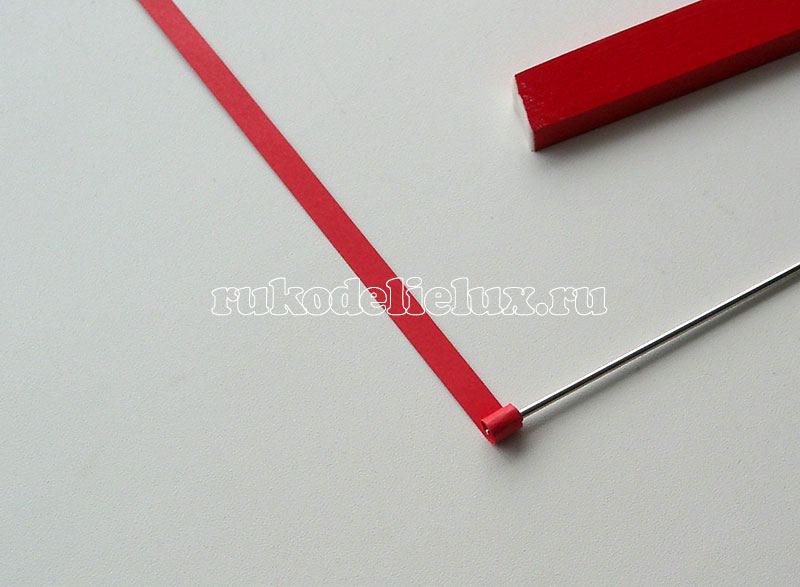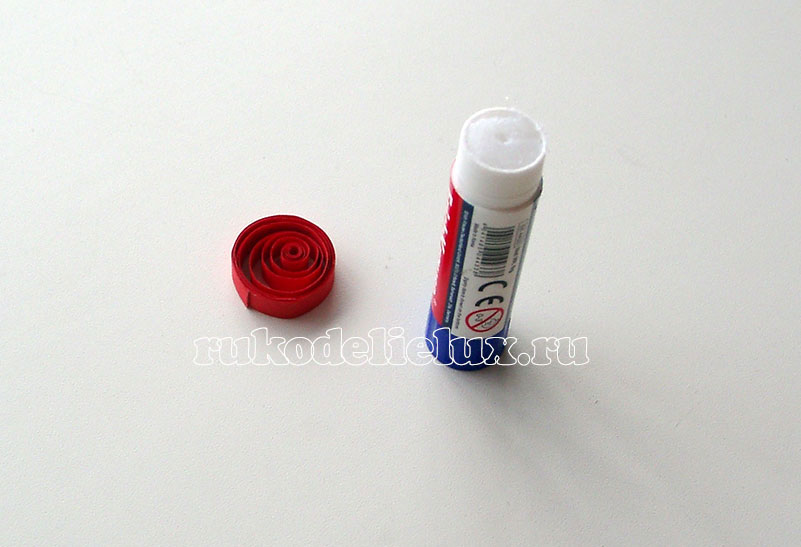 Two spirals of different sizes and one very small.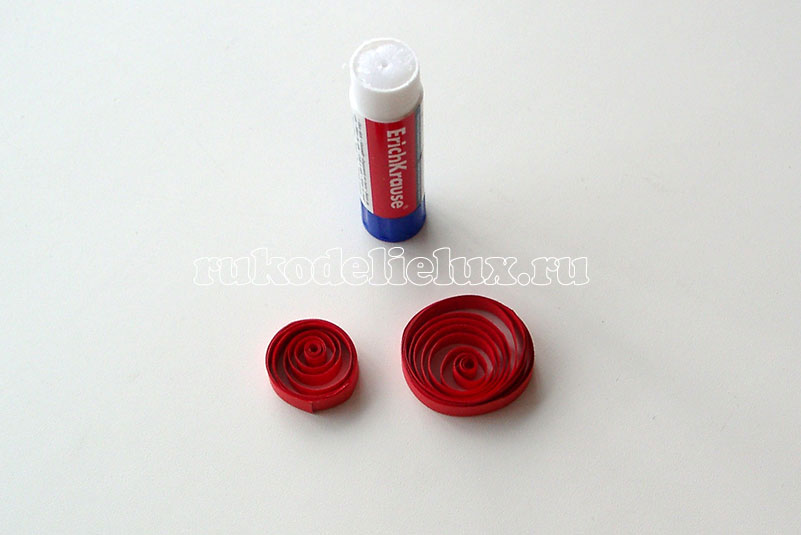 Give it this form.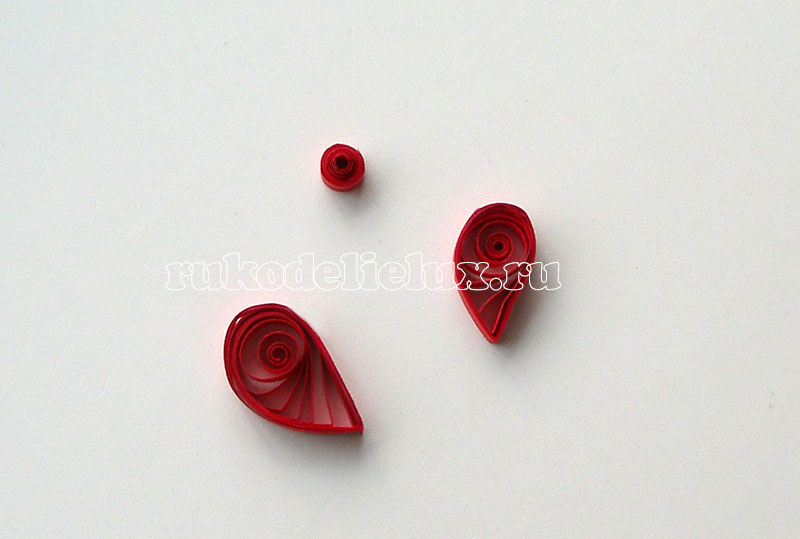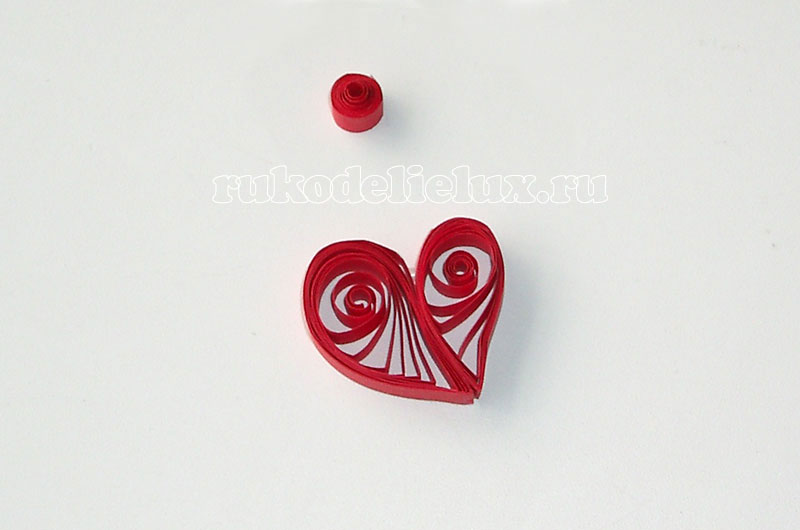 We glue all three parts together.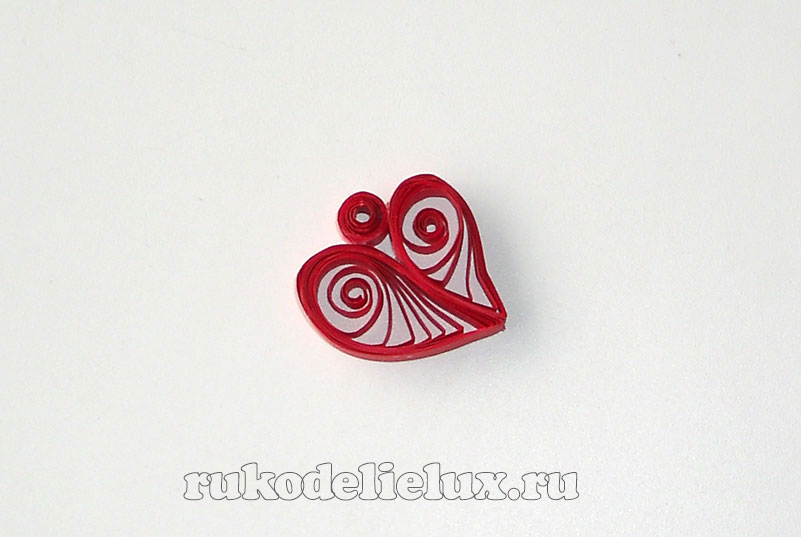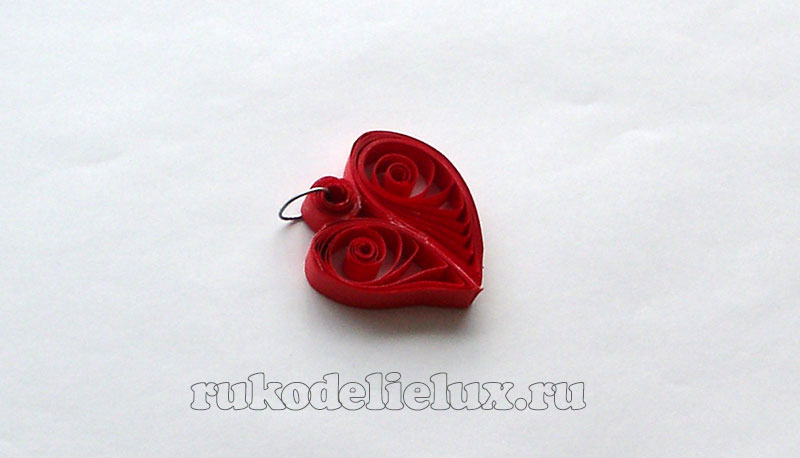 Our paper decoration is ready!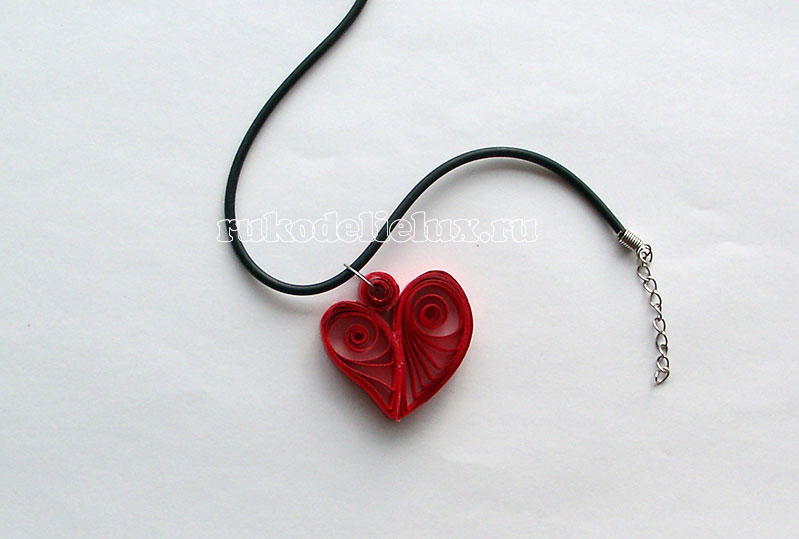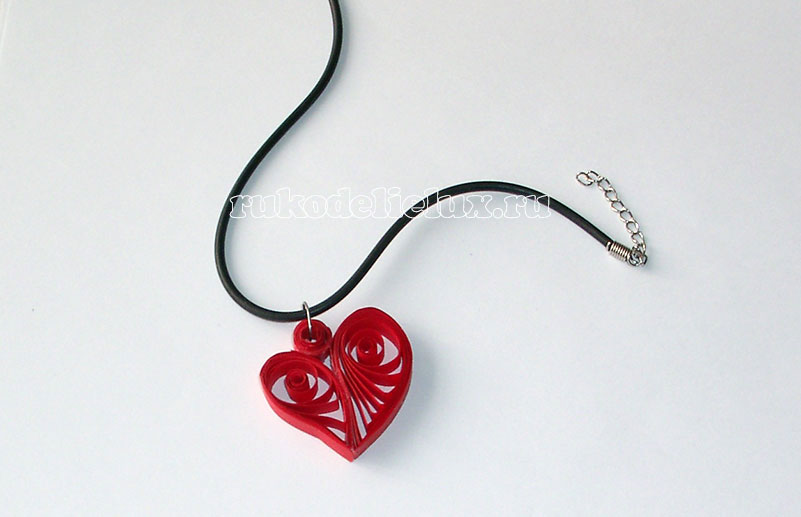 How to make other valentines with your own hands, see here.
Crafts from the wire
If you are already bored with paper and clay, then you can safely go to the wire. Just imagine that a bird can be made from a traditional clothespin and wire, and a little man can be made from a ballpoint pen.
Also, with the help of a wire, you can easily make ornaments for the Christmas tree, funny pictures and necklaces for girls, moreover, you can do all this with your own hands!
Decorative colored wire can be purchased at any store for needlework. You will also need a set of beads and balls of any size. If you have a great desire to do something with wire right now, but you think that you have no material, then in no case should you be upset.
Go through the rooms, it is possible that you have beads or beads in the locker, and it's also not difficult to find the wire, for sure it is in your home.
It is not necessary to use the color of the wire that is provided on our website, you can choose another color, or just the one that you have on hand.
The color will depend on the mood of your craft, so it is desirable to use bright, colorful and juicy colors.If you have a desire to make a key chain to your bag, then the color should choose the one that will be combined with your bag.
Workshop - DIY Handicraft
I present the master class - how to make such a Christmas tree toy from a wire with your own hands.
Take the wire and attach it to this shape.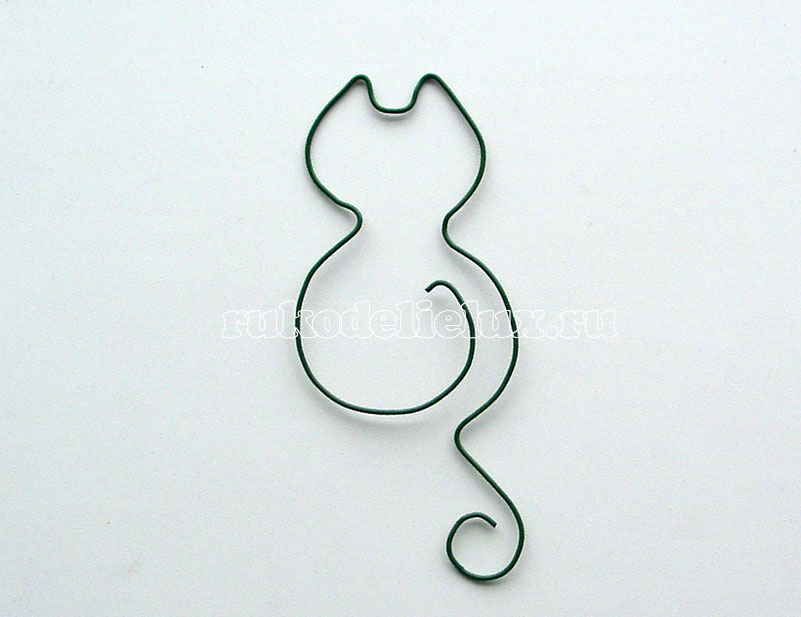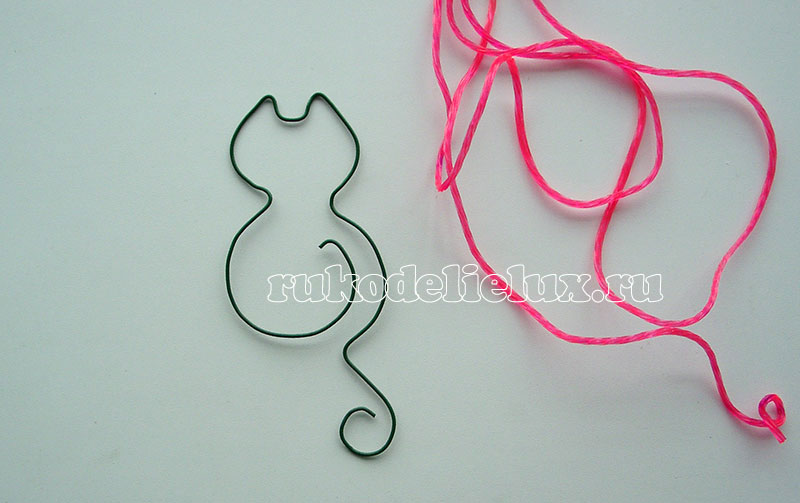 And we wrap it with polyethylene tape.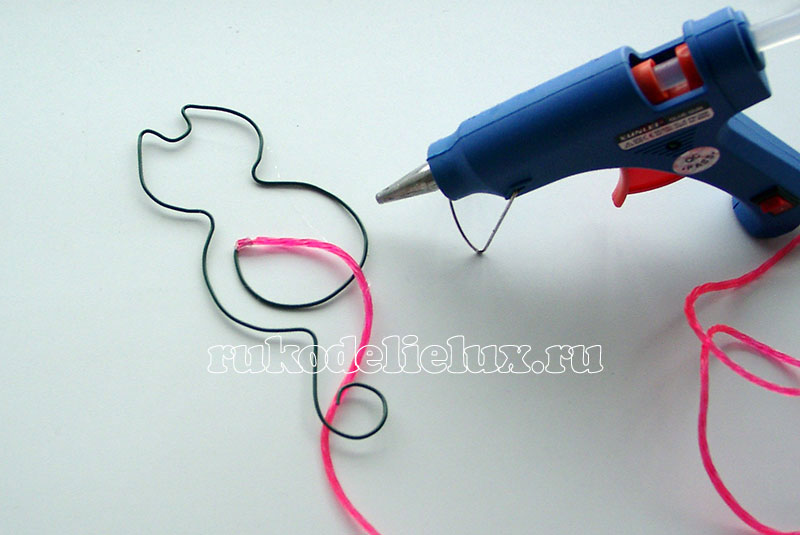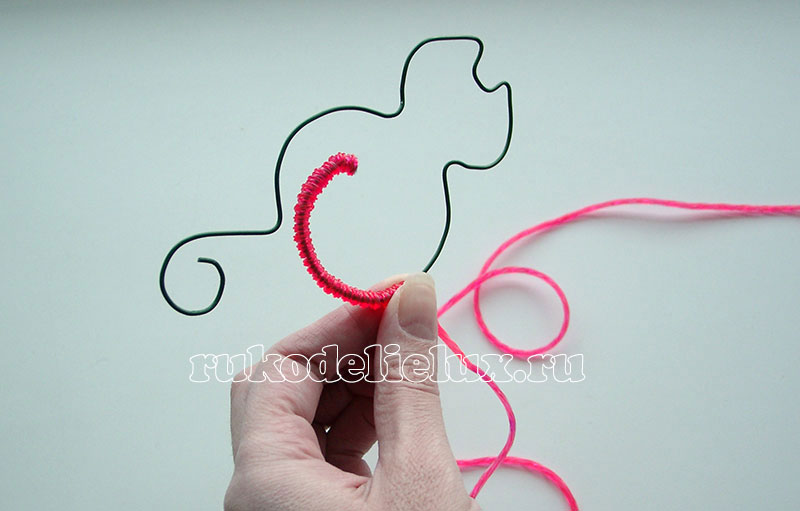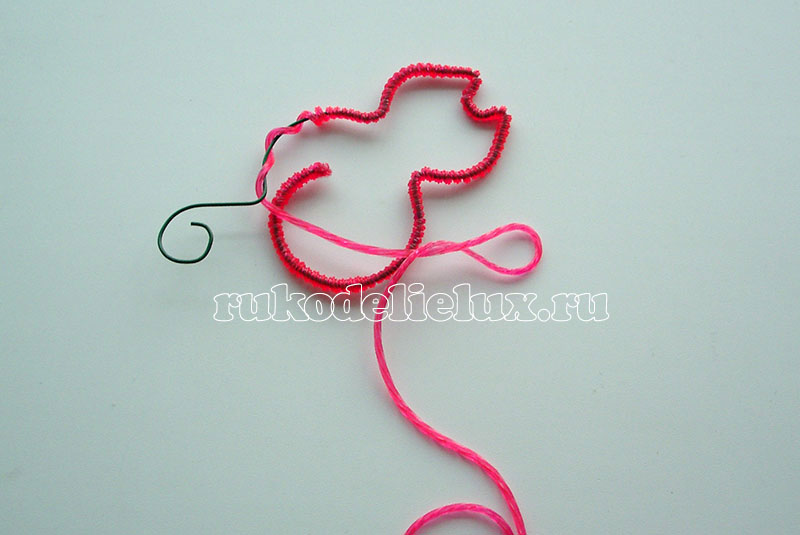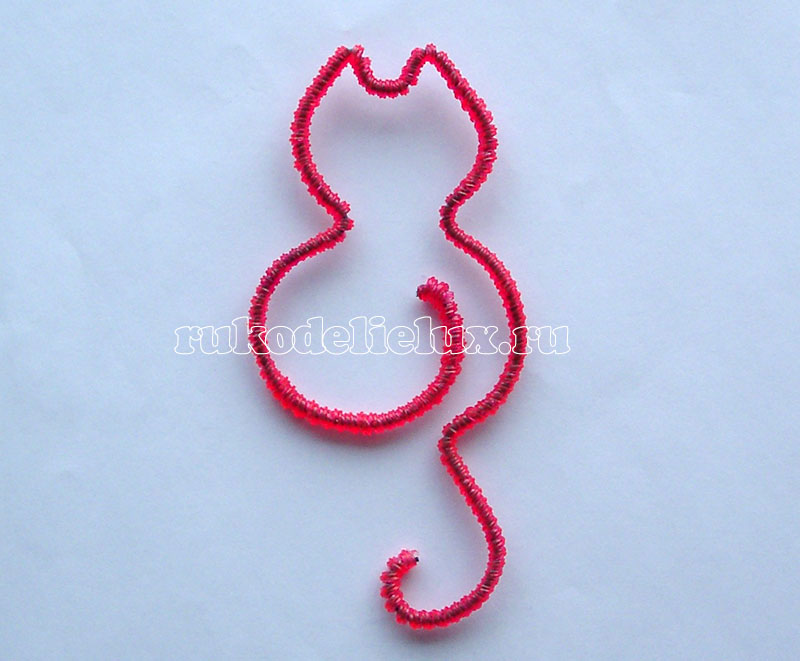 We make eyes out of green oval beads, letting one pink between them.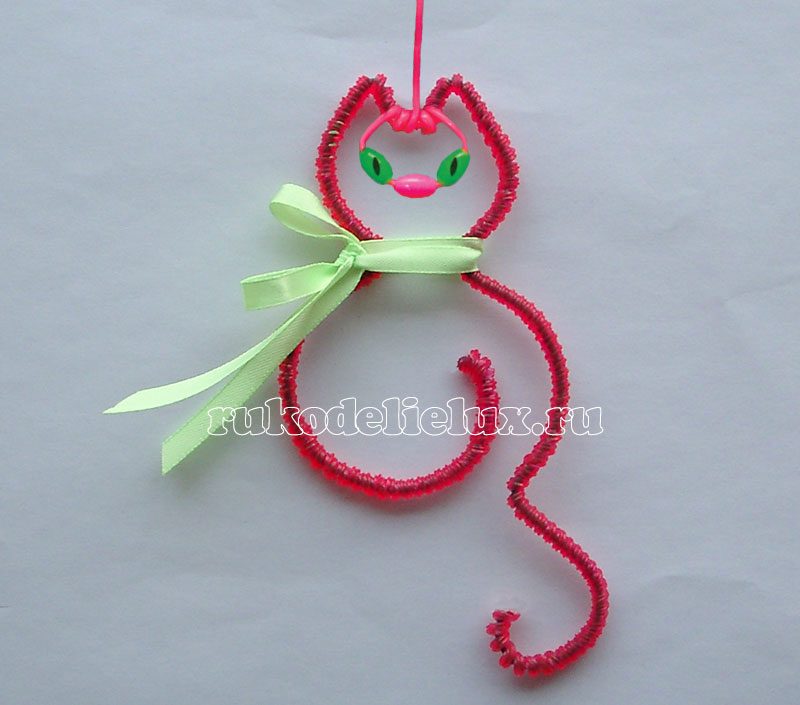 Well, that's it, the Christmas tree toy made of wire is ready with your own hands!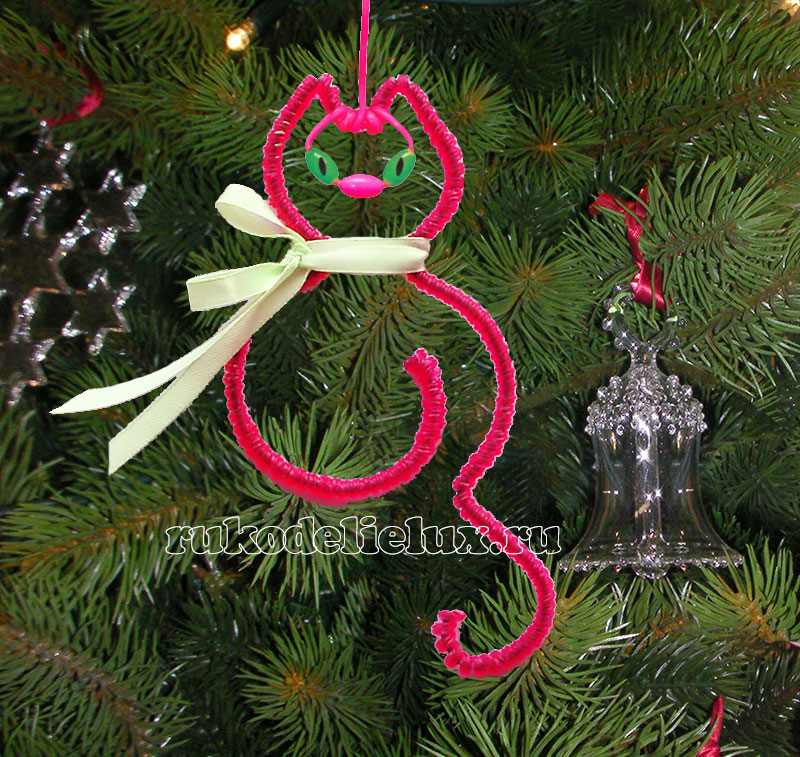 Plasticine crafts
Each child is an individual personality, and that is why the child is able to perceive the world around him in his own way, and to express his thoughts, emotions.A child, at a very young age, still does not know how to express his feelings and feelings in words, and therefore he does this with the help of his handicrafts and drawings. Therefore, in the room of your child should always be paint, clay and pencils.
Plasticine contributes to the development of imagination, fantasy, thinking, fine motor skills, sensations of volume and knowledge of colors, shapes and sizes.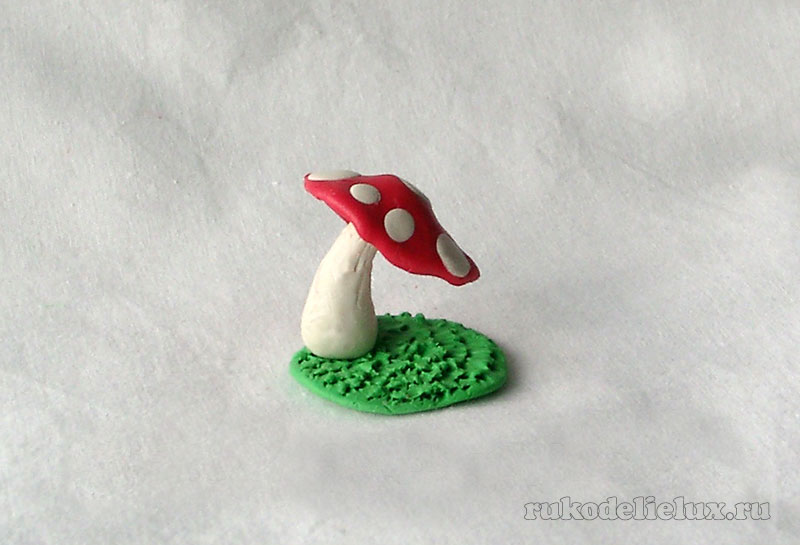 Besides, plasticine is good because a child can independently choose the color that he likes and complement his craft with new elements. For example, he can make a kitten of one color, and with the help of another color he can make a kitten's collar. Also, he can make one character and make furniture around him. Thanks to this, your child will learn to make unexpected creative decisions.
Of course, a big responsibility also lies on the shoulders of the parents, who should be present near the child during his creativity, and tell him if he has difficulties.
Who invented plasticine and for what purpose? It is impossible to say exactly who is the inventor of clay.There is a legend that one person somehow decided to invent a substance that would clean the wallpaper. After he invented it, he sent to his sister for testing, which worked in the kindergarten. Until now, it remains unknown how plasticine coped with cleaning the wallpaper, but the children were very fond of sculpting it.
Some plasticine secrets:
As everyone knows, in the box plasticine is of a variety of colors, but sometimes the child needs new colors, which alas in the box there. But, fortunately, you can invent a new color yourself! You should only connect two or more colors with you and you will get a new, completely different color.
If you want the color of your plasticine to be lighter, then you just need to add a white color to it. If, on the contrary, you want to make a dark color, then add a piece of black clay. Only add pieces of black and white color is extremely cautious, otherwise the color of your plasticine will either be too bright, or vice versa, too dark.
It is best to mix pieces of clay between each other in portions and gently mix it together so that it has a uniform color.
Wonderful crafts made from natural materials
Our nature is truly rich! Have you ever thought about how much unusual can be made using ordinary shells? You just have to touch the fairy-tale world of magic, and you'll already have in your hands not the usual shell, but the unknown animal that came to this world from your country called Fantasia.
With walnut shells, you can easily invent nice little animals, and you will have your own zoo. If you also use colored paper, cloth and clay, then you will be able to invent many bright and memorable crafts.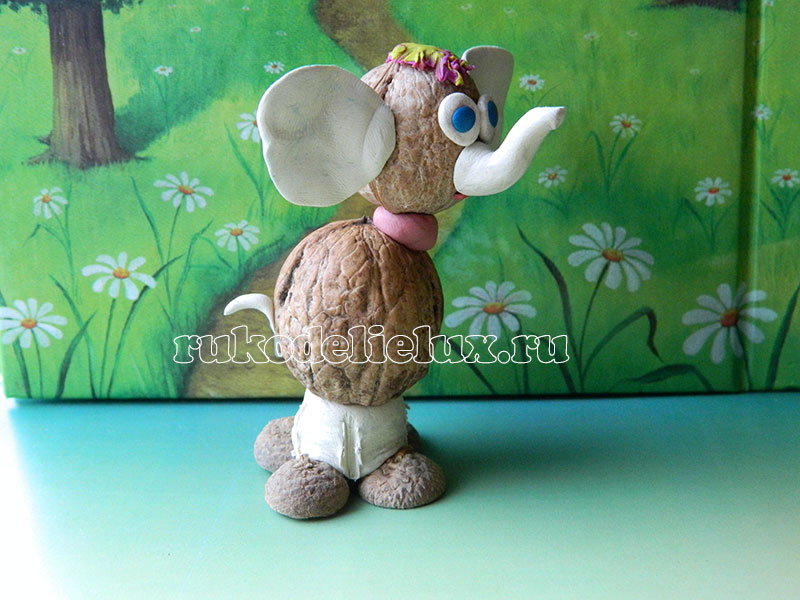 DIY handicrafts from acorns
Also, acorns are a great material for crafts. If you add tremendous imagination to your skillful hands, the crafts in your hands can come to life. It is not difficult to get acorns, because most often they are found in the forest, even in the city. If you went to the forest for acorns, then try to collect them fresh, so that you can easily work with them.
To work with acorns you will need glue, awl, twigs and clay. Bark and plywood are perfect for the foundation of your work. With the help of acorns, you can make a huge number of different crafts, which will not even be repeated. What is required of you is to examine in the acorn a small miracle, from which cool crafts will be obtained.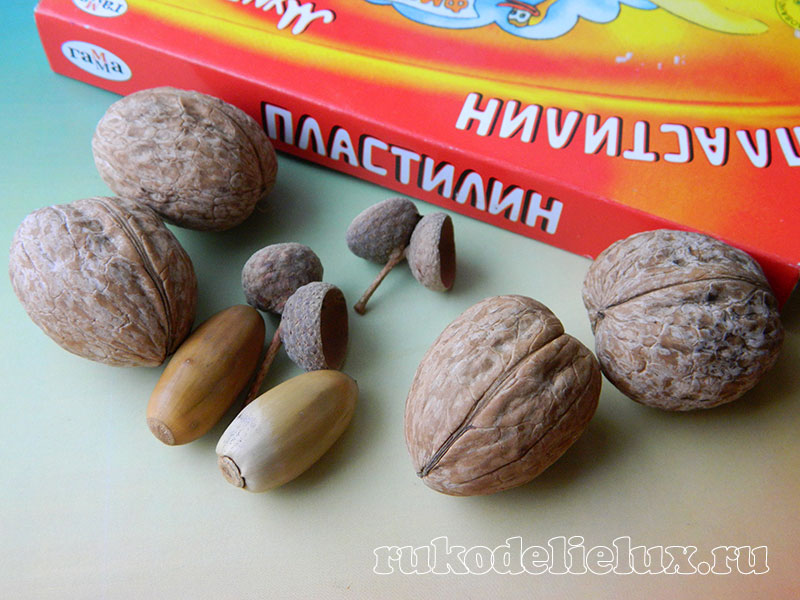 Handicrafts made from cones
If you want to make a voluminous crafts, then a lump is in a hurry to help you, because it is a great work that makes it great. With the help of cones, you can perform a man or an animal. In addition, it is very convenient and easy to work with.
Cones are also attractive because they have completely different shapes and can be easily glued together. It is most convenient to use with those cones that have not yet opened. Choose those bumps that are on wet soil. They are good because they will retain their shape for a long time.
If you have collected a lot of cones, now you should sort them out. It will be better if you sort them by their size and shape. In no case do not take the green cone, as over time it will acquire a dark color and begin to dry out.Other cones, dry and clean, will delight you for many years with their beautiful appearance.
Christmas crafts from cones with your own hands
Chest Crafts
If you want to do simple crafts, then chestnut will help you. Chestnut is attractive because it has a shiny, bright brown surface. With the help of awls, you can effortlessly pierce the shell of fresh chestnut.
It will be better if you keep your chestnut in a cool place. Then he will retain his appearance for a long time and will not lose his qualities.
How to make chestnut mushrooms video
Decorative pumpkins for crafts with their own hands
Decorative pumpkin has the most diverse shapes and colors. If you want to invent an unusual craft, then such a pumpkin will easily cope with this task.
Moreover, it is easy to handle and dries well without losing its properties. With the help of a decorative pumpkin, you can easily make a lamp, jug, candlestick and much more.Include your imagination and imagination - because you have such interesting material for creativity!
The simplest pumpkin artworks with your own hands
DIY handicrafts
Shells are also excellent material for creativity. They have a variety of forms, thanks to which one can make a wide variety of crafts. If you combine seashells with other material, then you can make beautiful, fancy flowers.
Most often, shells make out a frame for a photo, a casket, a stand and so on. It will look quite unusual if you make an unusual seascape with shells. The shell is easy to attach to any surface with glue.
Shells can be found by the sea, in reservoirs, and it is best done in the summer. It is mandatory to wash them with a brush and spread them out for drying. After your shells have dried, you can proceed to sorting them. You can store shells anywhere, regardless of temperature.
It is mandatory to introduce children to the beautiful, and it is advisable to do this as early as possible. Try to draw the attention of children to the beauty of the surrounding world, to flowers, trees, shells, leaves and much more.
Your child should see that each item has its own shape and size. Of course, you can buy a toy in the store, but what your child will do himself, will be unique and unrepeatable. After all, the gifts that the child makes with his own hands for friends and parents are truly priceless.
Related News:
Tilda-goat Nastassja
This secret recipe will smooth the skin on your hands in no time
How to change the pressure valve
Building material stores
Fawn
Flowerbed Pyramid
Transparent jar needle bar