Delboy's Garage, Harley white wall tires cleaning tip
How to Clean White Wall Tires
Three Methods:
Cleaning your whitewall tires starts with buying a good, all-natural tire cleaner and devoting time to scrubbing them. Use an SOS pad to clean them thoroughly. Use baking soda or eraser cleaning pads to whiten your tires, or sand them if the yellowing is too difficult to clean. Clean tires every two weeks at minimum, use a tire dressing to protect them from UV rays, and make sure they are well-protected in storage.
Steps
Giving Your Tires a Basic Cleaning
Use a specialized cleaner.

Look for a specialized whitewall tire cleaner in the automotive section of a department store or hardware store. Regular cleaners like Comet can work well to remove dirt and discoloration on the tires, but they can dry out the tires in the process, leading to early wear. Cleaning products containing alcohol or chlorine bleach should be avoided for the same reason.

For the best results, opt for all-natural whitewall tire cleaners (e.g. Simple Green).

Wet the tires and cleaning pad.Use an SOS pad for regular cleaning of whitewall tires. Use a hose to wet the tires. Wet the SOS pad as well.

Apply the cleaning product.If your chosen tire cleaning product is in spray form, spray it directly onto wet tires. If it is a liquid, mix the product in a bucket with water (as per the directions on the label). Soak your SOS pad in the mixture.

Scrub tires thoroughly.Put a generous effort into cleaning your whitewall tires thoroughly. The effectiveness of the cleaning is just as contingent on the duration and intensity of the scrubbing as it is to the products used. If the work is too intense to tackle on your own, enlist the help of a friend or family member.

Rinse off your tires.Rinse your tires every few minutes while you wash them to see how clean they are getting. Reapply your cleaning product and continue until you are satisfied with the results after rinsing. After you have scrubbed your tires clean, use the hose to rinse them off thoroughly.
Whitening the Tires
Use baking soda.

Sprinkle baking soda onto a damp cloth or sponge. Wipe the surface of your whitewall tires in small, circular motions. Rinse the tires clean.

Rinse the cloth and reapply baking soda every few minutes until you're satisfied with the results.

Try eraser cleaning pads.To whiten your tires, try eraser cleaning pads (like Mr. Clean Magic Eraser pads). Wet both the pad and your tires and wipe the tires down in small, circular motions. For best results, rinse or replace the pads between tires.

Use sand paper to remove stubborn yellowing.If tires remain yellowed after persistent cleaning, sand the top layer of the white part with fine, dry sand paper. Sand away the yellowed layer slowly and gently until a bright white layer emerges underneath. Rinse tires clean with the hose.
Keeping Tires Clean
Clean them at least every two weeks.

To keep your whitewall tires clean and avoid having to give them a heavy duty cleaning, take the time to wash them at least every two weeks. Use water, whitewall tire cleaner and a rag or sponge. If you do this cleaning frequently enough (e.g. every week), a gentle soap should be effective enough to use.

If there is persistent dirt or discoloration, which is less likely if tires are regularly cleaned, use a stronger whitewall tire cleaner and scrub pad.

Use tire dressing.After cleaning whitewall tires, use a water-based dressing to give your tires shine and protect them from harmful UV rays. Purchase the dressing and a foam applicator for it in the automotive department of most department stores, or online. Apply the foam to the applicator and wipe it onto your tires evenly until the desired effect is reached.

Give them ample space in storage.When storing your whitewall tires, give them ample space so that they don't have to lean against each other. This may cause the black rubber of the tires to rub against the white rubber, smudging them. If you do have to lean them against each other, separate the tires with plastic sheeting or store them in individual bags.
Video: Cleaning White Wall Tires
How to Clean White Wall Tires images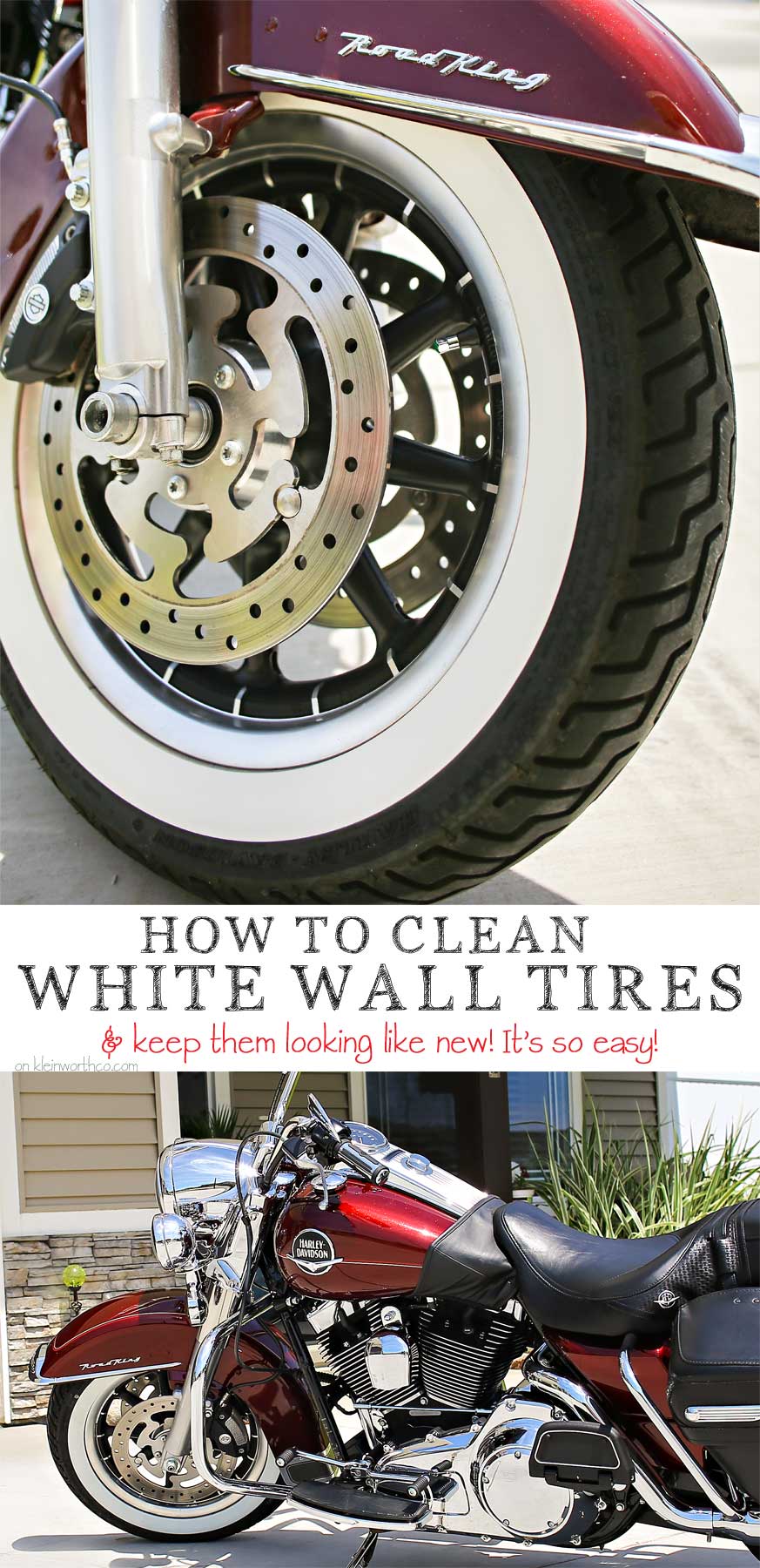 2019 year - How to Clean White Wall Tires pictures
How to Clean White Wall Tires advise photo
How to Clean White Wall Tires pics
How to Clean White Wall Tires new pics
pics How to Clean White Wall Tires
Watch How to Clean White Wall Tires video
Forum on this topic: How to Clean White Wall Tires, how-to-clean-white-wall-tires/ , how-to-clean-white-wall-tires/
Related News
Castor Oil Enema- What Is it And What Are Its Benefits
10 Of Our Favorite Easy BeachHairstyles
Is That Outdoor Water Safe for Your Pet
Marchesa to design bridal collection
How to Dress Business Casual for Men
Mexico is offering temporary IDs, jobs to keep migrants in the country
9 Sex Positions To Try This Valentines Day
How to Transport a Guinea Pig
How to Paint Ceramic
Clues That a Lupus Patient Needs Care
Heres Whats Coming toLeaving Netflix In June 2019
6 Clean Ways To Turn Your Coffee Into Dessert
How to stop overeating
Date: 04.12.2018, 19:59 / Views: 82473
---