Recipes for the most delicious cakes
Grocery abundance sometimes pushes housewives to the most daring experiments, and, surprisingly, some of them are so successful that the dishes are permanently settled in a festive or everyday family menu. So with the pies - along with the traditional cakes, pies, cheesecakes today so much delicious and beautiful exotic is baked that the eyes diverge. And we decided: why not peep a couple of pies recipes on the site where the most experienced and fearless housewives of the World Wide Web live? We will tell you about these recipes.
Chocolate-Almond Mango Pie
The name in itself sounds enticing: nuts, chocolate and mango in addition - the taste of the cake must be divine. Let's see how this delicacy is prepared. It turns out that everything is not so difficult. To begin with, the almonds milled in a blender are mixed with flour, soda, vanillin and baking powder, and in another container a mixture of eggs, sour cream, sugar and melted butter is brought to a uniform consistency. In a water bath, melted chocolate and added to the oil mixture.Further, all this is mixed up to a homogeneous mass, after which it is mixed with the bulk contents of the first container. The resulting dough is still a little lumpy, no matter how hard you try. But in this case it is not conceptual. You do not need to make extra efforts - it is better to take up mango (peel, cut into cubes and add to the total mass). The dough is laid out in a form, at the bottom of which parchment or baking paper is laid. Cooking time - 50 minutes at 180 degrees. From above, the finished cake can be decorated with melted white chocolate and pending almond nuts in advance.
What can be said about this recipe? Perhaps the most difficult part is mango. Supermarkets still strive to shove "wooden", indigestible fruit into buyers, which are difficult to call fruit. But, after some thought, we decided: if we bake this cake, we will replace the mango with apricots or peaches. Exotics, of course, diminished, but the taste and texture are guaranteed.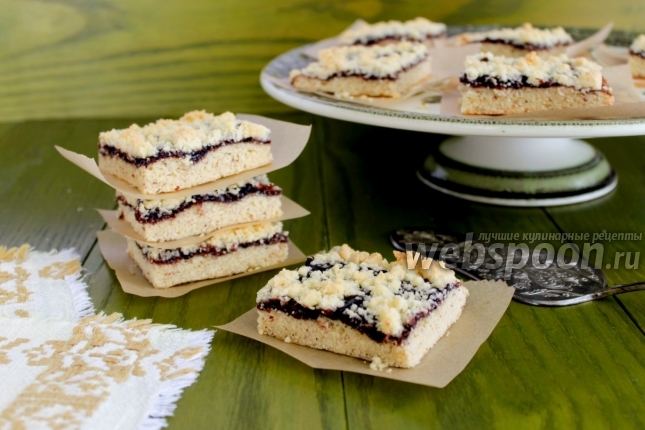 Claufti with pineapples
This light pie with canned pineapples is very fond of children.The birthplace of this pie is France, but there it was baked exclusively with cherries. However, today claufti with peaches, apricots, apples, pears and even vegetables is no less popular. As for our claufti, we promised you exotic things, and we promise to fulfill them. To make Pineapple Claufti, you need to prepare the following ingredients: 200 grams of canned pineapple, 100 grams of brown sugar, a glass of milk, 90 grams of wheat flour, 60 grams of potato starch, three eggs, a teaspoon of baking powder, a tablespoon of vanilla sugar and a couple of pinch of salt. We specify: 200 grams of pineapples - this is exactly pineapples, without syrup. If you plan to bake klaufti with fresh pineapples, then the amount of sugar will have to increase by half. Now about the test: it should be liquid, like for pancakes. While the oven warms up to a temperature of 190 degrees, you just have time to sift the flour, mix it with baking powder, starch, vanilla and brown sugar and salt, add eggs, milk and bring it all to a homogeneous consistency. The bottom of the form must be greased with butter and lay layers of pineapple on it, rolled in flour.Then everything is simple - pour the dough on top and send the form into the already heated oven for 25-30 minutes. A signal of readiness is the formation of a ruddy crust on the cake with lighter circles of pineapples baked inside. Before serving, dessert should be cooled.
Related News:
Decoupage napkin box
An amazing piece can be made from a towel soaked in cement mortar
How to drill a bearing
Put it on your hands, wait 15 minutes and the wrinkles will disappear completely
Elephant from plasticine
Casket-chest Sea Breeze
Mint Jam