Stuffed Syrian Eggplants
You will need
- 1.5 kg of eggplants
- 300 g minced meat
- 3 pcs. onions
- 5 cloves of garlic
- 1 bell pepper
- 1-1.5 cups of tomato juice
- 2 tomatoes
- salt, pepper, bay leaf, paprika
- parsley
Instruction
First, take the eggplants, wash them well and clean them with strips. When cooking this will help them keep their shape and the eggplant will be tender and tasty.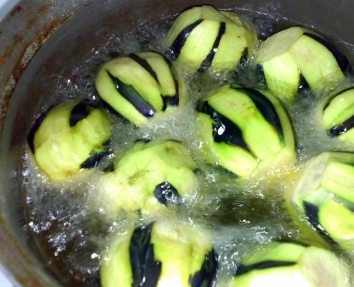 Fry the eggplant portions in a huge amount of vegetable oil. When frying eggplants do not absorb the oil, this is a big plus.
Fry until golden, but not excessive. Put the fried eggplants on parchment paper, which will collect excess butter.

Fry the minced meat in a skillet, then add the chopped bell pepper and onion. Stew until fully cooked, salt to taste, add bay leaf, paprika, ground pepper.
In eggplants, make a cut on the side and with your thumbs rub the flesh inside, forming cups, put the minced meat.Eggplants salt before stuffing inside.
Squeeze the garlic into the tomato juice, add the chopped parsley and mix everything well and pour the stuffed eggplants. Put tomato circles on top and place in a preheated oven to 180 degrees for about 20-25 minutes. Decorate the eggplants with parsley and serve.
Related News:
Christmas tree pendant
How to make a tank out of money
Coffee Table
Separate swimsuits
Soft cozy plaid
Paper baskets (boxes)
Postcard Beloved Mother