Tips for Choosing a Good Sofa
It is pleasant to buy a good, comfortable sofa that is easy to unfold, does not creak and does not buckle. This is not a fairy tale, such sofas really exist. To find such a miracle you need to approach this issue with skill. But first, take a look at the corner sofas from the company Dommino - http://dommino.ua/divany-uglovie. Disassemble the sofa "in the bones". The first thing we see is the design and material of the upholstery. Design is a matter of taste. The main thing is that the designer does not sacrifice comfort for the sake of originality. Upholstery can theoretically be made from almost any fabric. Consider the most common types of upholstery.
Flockis a synthetic material with a velvety surface. Very well proven, easy to clean and resistant to abrasion.
Jacquardis half natural smooth material that looks very presentable. On the jacquard sofa is easy to stay and poorly stained. With such upholstery is better to handle carefully.
Microfiber- artificial material, with a fleece or velvety structure. The special dense structure of the villi repels dirt.The range of colors is much smaller than that of Jacquard. But the colors are pleasant, pastel, besides this upholstery is resistant to fading. Expensive types of microfiber have a Teflon coating, the dirt is not absorbed into it, but simply rolls off the surface. Velor, used in upholstery, can be natural, or with the addition of synthetic fibers. Good for creating an amazing play of light and shade on the surface of the furniture due to the direction of the villi. But it literally "collects" hair and wool. It should be cleaned from dirt, so as not to damage the nap. Leather as upholstery is used on expensive models of sofas. It looks so solid upholstery. Leather upholstery requires care and periodic treatment with special compounds. When ordering a sofa, you can order removable covers for it from any upholstery fabric. This option is practical and will save nerves. While one cover in cleaning you can wear another.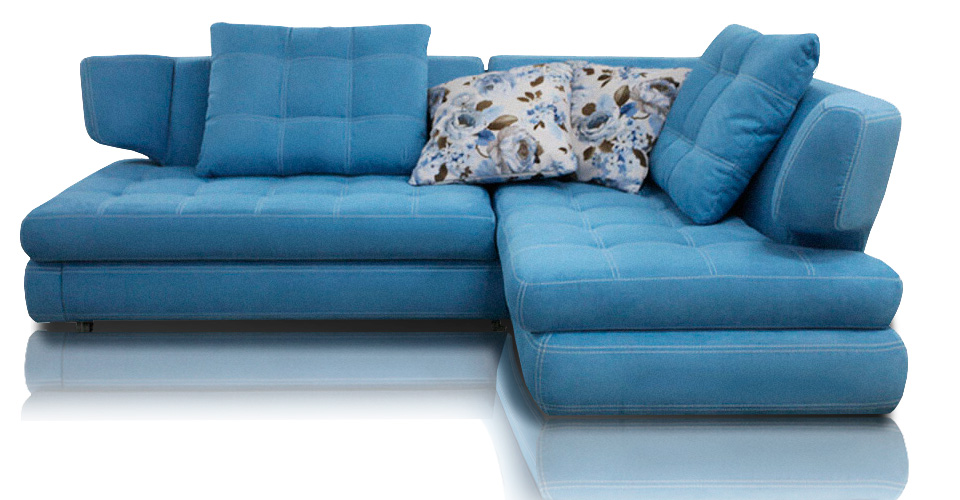 Sofa frames can be made of wood, metal, combined with chipboard. Among wooden frames, the most short-lived ones that are made of coniferous species, frames made of birch, oak, ash, beech nut, of course, more expensive, but will last longer.The advantages of metal frames in their low cost and large margin of safety. Models of such sofas differ from models on wooden frames. Fillers for the sofa can serve as foam rubber, sintepon, polyurethane foam, holofiber, spring designs. Porol has been used for a long time, with time any foam begins to crumble and sag. The synthetic winterizer excellent alternative to foam rubber - inexpensive, easy, elastic material. Polyurethane also holds the shape well, but when it is too soft, it quickly sinks. Holofiber is one of the leaders in shape retention and resistance to stress. Spring mechanisms, of course, are reliable and are often placed on expensive sofas. But over time, they can begin to creak. Options designs sofas set. But the principle of work is similar to everyone. Here are the main ones.
Book - a sofa of two halves is expanded into a bed. A convenient option if the mechanism is high quality and durable. Eurobook also consists of two halves - the front part extends, and the back rest in the formed niche. Forms a smooth and comfortable bed. In such a sofa provided boxes for linen.Folding bed - in the sofa hidden folding mechanism from the frame on the legs. It can be unreliable and fail quickly because it contains many moving parts. Virtually every manufacturer is developing its own options for folding sofas. The main thing with the purchase is that the mechanism does not jam, it works easily, but with some effort.
Related News:
Furniture made in Russia
Kanzashi Tzumi
DIY card for Cosmonaut Day
Mark VII Tetrarch Paper Model
Choosing souvenirs at the resort